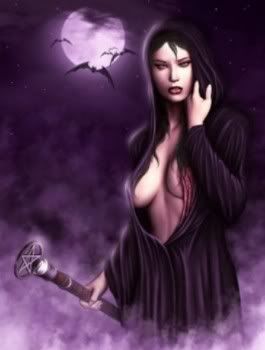 Strictly Sirens Carnival Topic for October:
Romance Novels and the Undead-Vamps and more


Oh! A subject I can sink my teeth into...*grin*

I love reading them. I love writing about them. The Undead, Black Dagger Brotherhood, Carpathians, Immortal Vikings, I love 'em all! The first author to get me hooked on the darkly exciting paranormals was easily Amanda Ashley. After reading, "Embrace the Night" I thought, ooooh this is what I've been missing. I need more. I was insatiable. Then came Christine Feehan with her Carpathian Alpha Males and I was drooling like a wild woman. I soaked up ever story I could find by these two authors. I thought I'd reached the end. Never to see/read another of these types, but then I stumbled across Sherrilyn Kenyon. Now, they aren't vampires, but they are immortal and they are downright yummy. (Can't wait for Ash's story!)

Then a dear friend of mine told me about Susan Sizemore and I was only too happy to find yet another fantastic author writing the types of books I love to read. As if that's not enough, along comes J. R. Ward. Wow...she set the bar a tad bit higher, now didn't she? I go crazy just thinking about the next book...Erotic, Action packed, emotional, she's got all the elements I crave in a good romance.

So, of course I had to try my hand at writing a vampire romance. My vampires are straight up undead. Three siblings from Italy, The Salvatores, all turned on the same day, all hoping for a cure. Three centuries later and they stumble across a witch who just may have what they need. Only problem is, there's the Dark Dominion to contend with. Before they can ever hope to drink the witch's potion--thus making them human again--they must be sure that the evil DD don't get their bloodthirsty hands on it first. Letting these depraved vampires get hold of the cure would be like handing the human world over to the side of evil on a silver platter. The DD would be able to decide who lives and who lives forever! Stuck in a situation that is spinning quickly out of control, the Salvatore family decide to spirit the witch away, to their private dwelling. Unfortunately, they may be too late. The cure has already been stolen, and the fate of the world hangs by a thread.

If you are curious about my Salvatore Vampires you can check out my website and read a blurb! http:www.tamaraboyer.com
Before I end this, I will leave you with a poem I wrote...hope you enjoy!
Nighttime, Blood, and Tears
Darkness surrounds me
everywhere,
Creeping in under cracks
and over there.
I scream, and scream,
but no one hears.
As I wipe frantically
at my blood and tears.

He always appears
when the darkness falls.
I sit shaking, as I'm waiting
for his eerie calls.
I try to resist, as he laughs,
certain he'll prevail.
I run farther and farther,
but I shall fail.

He's caused my heart,
to wither and furl.
I wasn't always,
this pitiful desecrated girl,
I once had innocent smiles
upon my face.
Now I'm just weary,
of this wretched chase.

A puppet on a string
with a single bite.
I've become the creature
I tried to fight.
A thing not human.
A thing not mortal.
A thing with no soul, for you see,
I too am now…Immortal.